My bowels, my bowels! I am pained at my very heart;
my heart maketh a noise in me; I cannot hold my peace, because
thou hast heard, O my soul, the sound of
the trumpet, the alarm of war.
When giving the Olivet Prophecy, Jesus identified a series of events that would define the end of the world. Furthermore, He exhorted His followers to be mindful of conditions in the world and how they would play out. Early in this extroardinary prophecy, Jesus indicated that in the last days the world would be filled with violence.
This page of our website contains articles pertaining to the proliferation of war and violence in today's world. To access a particular article click the appropriate title.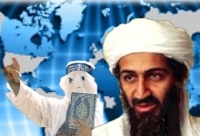 Music Provided By www.freeplaymusic.com