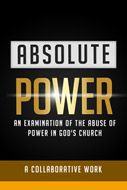 ~Chapter I~
"Shepherds & Hirelings"
"The hireling flees, because he is a hireling, and cares not for the sheep."
—Jesus Christ
Shortly after the death of Herbert W Armstrong in 1986, doctrinal changes began to emerge within the Church. To be sure, they were subtle at first, however, they were very discernible. It is also interesting that they were never referred to as "changes," but rather "new understandings." This was done in an attempt to minimize the impact they would have on brethren around the world. As each change was introduced, pastors were conscripted by the Church's administrative group to present them to their congregations and persuade them that wise and understanding leaders had sincerely sought them out in the scriptures—thus, they represented further evidence that God was still working with His Church.
However, not everyone was buying it—and surprisingly, the most vocal opposition seemed to come from the general membership of the Church as opposed to their pastors who once spoke forcefully against these doctrines in the past. This was especially disappointing because for years pastors exhorted their members to be willing to give up jobs and even families if necessary, rather than surrender their faith. Now it seemed that this requirement only applied to the sheep, not the shepherd.
Where were the heroes?
It is hard to believe that anyone would actually accept these "new understandings" because; for the most part, they had already been thoroughly disproven by members prior to their entrance into the Church. As a matter of fact, it was their rejection of normative Christianity and its worldly traditions that drew them to the Worldwide Church of God in the first place. Why would anyone think they would want to return to a belief system they had already rejected?
"The man that wanders out of the way of understanding
Shall reside in the congregation of the dead."
Proverbs 21:16
However, what was even more surprising was the reaction of the ministry. For the most part they simply stood down, refusing to take any action at all. Even those who didn't embrace the changes elected to remain silent. They rationalized this behavior by convincing themselves that it would be better for them to stay with their local congregations preaching "safe sermons" than abandoning them to the wolves who now presided over God's people. The problem with this thinking was that by doing so they were actually encouraging their flock to stay with the wolves as well. Furthermore, this approach went totally contrary to the scriptures that admonished God's people to withdraw themselves from those who subvert the truth (I Tim. 6:5 & II Tim. 3:5, Jude 3-4).
"Marking" the brethren
With each passing week scores of longstanding members began taking a stand, even at the risk of being sanctioned by the Church. Despite the potential consequences, these courageous men and women had determined that as for their house, they would serve the Eternal (Joshua 24:15) and not those who subverted His gospel. As a result, a migration away from what had now begun to be referred to as "The Great Apostasy," was growing—as was the acrimony between those who left and those who stayed. As the months passed the intensity of the rift grew. Eventually, pastors were directed to disfellowship those who left—publicly "marking" them during Sabbath services. This was even done to the meekest of members who only sought to worship God as they believed was right. The only exception to the "disfellowship rule" was if a member decided to attend a different denomination altogether. Under those circumstances they were free to leave without any recriminations. However, if they attended any of the emerging splinter groups, their departure was met with the most severe of penalties.
Tragically, local pastors became the instruments used by WCG's power players when formally expelling members they had once dedicated their lives to serving. In some of the larger congregations up to a half dozen were "marked" in a single service. Even more tragic was the fact that many of these pastors rationalized their actions by claiming that they were just following orders from those God had placed in leadership over His people.
"Also among the prophets of Jerusalem I have seen a horrible thing:
the committing of adultery and walking in falsehood; and they
strengthen the hands of evildoers, so that no one has turned
back from his wickedness . . ."
Jeremiah 23:14 NASB
There are undoubtedly scores of examples of ministers engaging in this practice and then justifying it, but one particular example illustrates how warped their priorities can be. It took place nearly twenty years ago. At that time, a long standing member met with his minister and explained his consternation over the numerous doctrinal changes in the Church. This member was quite articulate, not to mention well versed in the scriptures—perhaps even more so than his minister. He explained that he was fully prepared to engage his pastor in a respectful discussion on the changes but his pastor [wisely] declined. When the member informed him that he was left with no choice but to find a fellowship that honored the teaching once embraced by the Church, his pastor responded by advising him that if he took that course, he would be disfellowshipped in accordance with the directive of the Church.
Well, suffice it to say this story played out precisely as one would think. The member began attending a recently formed splinter group just as he had indicated he would and the pastor disfellowshipped him "in accordance with the directive of the Church."
A Twist of Fate
However, within two years this pastor, who had now disfellowshipped virtually dozens of members, left the WCG himself. Ironically, he was hired to pastor the very congregation now attended by the member he had expelled earlier.
It didn't take long for this gentleman and his former/current member to discuss what had transpired just a few years before. However, much to the surprise of the member, the minister expressed no contrition for his past actions. On the contrary, he actually defended them saying he was just doing his job. He then informed the member that he (the member) needed to respect what was done as well as respect his pastor's authority over his current congregation. He also made it clear that his primary role as a minister was to support the leadership of the Church because he was accountable to them.
The real tragedy here is that this mindset is not the exception. On the contrary, the vast majority of ministers embrace it. They have somehow been persuaded to see themselves as corporate citizens charged with supervising the sheep as opposed to shepherds caring for their Father's flock—even in the face of danger. Jesus was acutely aware that this condition would exist in His Church and warned of it. He did so by providing a parable in which He contrasted His role as a good shepherd to that of others who are not genuinely concerned for the lambs they were charged to watch.
In the parable of "The Good Shepherd" the Messiah indicated that He was a protector of His Father's sheep and as such was prepared to stand between them and peril. Therefore, if predators threatened the sheep, He was willing to die in their defense. He also explained that there were other shepherds that at the first sign of danger would abandon the flock in order to preserve their own safety. Notice the Messiah's words.
"The Good Shepherd"
John 10: 1-15
Verily, verily, I say unto you, He that enters not by the door into the sheepfold, but climbs up some other way, the same is a thief and a robber. But he that enters in by the door is the shepherd of the sheep. To him the porter opens; and the sheep hear his voice: and he calls his own sheep by name, and leads them out. And when he puts forth his own sheep, he goes before them, and the sheep follow him: for they know his voice. And a stranger will they not follow, but will flee from him: for they know not the voice of strangers.

This parable spoke Jesus unto them: but they understood not what things they were which he spoke unto them. Then said Jesus unto them again, Verily, verily, I say unto you, I am the door of the sheep. All that ever came before me are thieves and robbers: but the sheep did not hear them. I am the door: by me if any man enter in, he shall be saved, and shall go in and out, and find pasture. The thief cometh not, but for to steal, and to kill, and to destroy: I am come that they might have life, and that they might have it more abundantly. I am the good shepherd: the good shepherd gives his life for the sheep.

But he that is an hireling, and not the shepherd, whose own the sheep are not, sees the wolf coming, and leaves the sheep, and flees: and the wolf catches them, and scatters the sheep. The hireling flees, because he is an hireling, and cares not for the sheep. I am the good shepherd, and know my sheep, and am known of mine. As the Father knows me, even so know I the Father: and I lay down my life for the sheep. (John 10: 1-15)
The point Christ was making is that a true shepherd is courageous and fully prepared to confront those who would dare to threaten his Father's sheep. He personally demonstrated this trait numerous times when confronting the religious leaders of His day. In truth, these leaders were afraid of Him—not the other way around.
The scriptures actually reveal that courage is one way a millennial shepherd can be identified. For example: consider King David. God used the great prophet Ezekiel to declare that he (David) would be a shepherd and a prince over Israel in the Kingdom
And I will set up one shepherd over them, and he shall feed them, even my servant David; he shall feed them, and he shall be their shepherd. And I the LORD will be their God, and my servant David a prince among them; I the LORD have spoken it. (Ezk. 34:23-24)
In truth, David is an ideal candidate for this position because he understood the responsibility a good shepherd had toward His Father's sheep. Unlike the hireling, David would not be intimated by predators seeking to harm them. He would not flee from the danger they posed, but would rather pursue anything that posed a threat. Here is how he described his own role as a shepherd to King Saul.
And David said unto Saul, Thy servant kept his father's sheep, and there came a lion, and a bear, and took a lamb out of the flock: And I went out after him, and smote him, and delivered it out of his mouth: and when he arose against me, I caught him by his beard, and smote him, and slew him. Thy servant slew both the lion and the bear: and this uncircumcised Philistine shall be as one of them, seeing he hath defied the armies of the living God. (I Sam. 17:34-36)
The bottom line is this: although it is certainly appropriate to show deference and respect to those in authority over the Church, it is also appropriate for those leaders to inspire hope and confidence in God's children. This can only be achieved by demonstrating genuine out-going concern for them—even being willing to place the safety of God's lambs above their own.
Chapter II