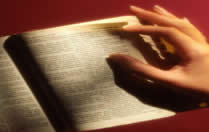 This wing of our library contains a collection of brief studies on some of the Bible's great teachings. Each study is designed to inspire a more in depth examination of God's word and therefore is not an exhaustive analysis of the topic. However, on certain studies we do provide links to other resources available on our site that will provide a greater level of wisdom on a particular subject.
Additionally, because we will be adding new topics on a regular basis, we encourage you to visit this page often. Additionally, if you would like to see a particular subject included in this wing of our library we'd like to hear from you. To contact us click HERE.
Finally, we at Blow the Trumpet sincerely hope you will derive as much pleasure from these mini studies as we did creating them.
Directory
---
| | | |
| --- | --- | --- |
| Answered Prayer | | Baptism |
| | | |
| | | |
| | | Christ's Example Prayer |
| | | |
| | | |
| | | Dining Out on the Sabbath |
| | | |
| | | |
| Fasting | | |
| | | |
| | | |
| | | Husbands and Wives |
| | | |
| | | |
| | | Repentance |
| | | |
| | | |
| | | The Sabbath |
| | | |
| | | |
| | | Sexual Immorality |
| | | |
| | | |
| Tithing | | Keeping the Sabbath Holy |
| | | |