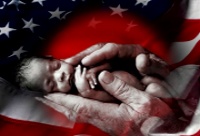 Before I formed thee in the belly I knew thee;
and before thou camest forth out of the womb I sanctified thee,
and I ordained thee a prophet unto the nations.
Blow the Trumpet
Proclaiming the gospel as a witness
January 20 , 2009
The Honorable Barack H. Obama
President of the United States of America
The White House
1600 Pennsylvania Avenue
Washington DC
Dear Mr. President,
As you know, on January 22, 1973 the United States Supreme Court ruled that a woman's "right" to terminate an unwanted pregnancy was somehow protected by the Constitution. It is difficult to imagine how anyone could believe that the framers of this nation's greatest legal document would draw such a conclusion, but tragically seven justices on the court did just that.
Since this landmark decision (Roe v. Wade), over 46 million abortions have been performed in the United States. Furthermore, what was once argued as a means to spare women the potential threat of "back alley" abortions has now become one of the most popular surgical procedures in the country. Today this practice is viewed by millions of Americans as just another method of birth control.
However, despite the fact that abortion is legal, it remains one of the greatest moral and legal tragedies in history. And although abortion rights may be one of the most divisive political issues of our time, it is a war that must be fought. Furthermore, there is no room for compromise. The stakes are simply too high.
Mr. President, the carnage that has infested our nation in the name of freedom is an evil of unspeakable magnitude. It is the oppression of society's weakest members and those innocent lives cry out to you. Furthermore, the real story concerning abortion is a tale "pro choice" advocates don't want to be told and it is one they will do anything to silence.
Mr. President, abortion is a horrible evil in which the most innocent in society are victims. As such they deserve the protection of America's leaders. We at Blow the Trumpet appeal to you to lift up your voice in defense of these precious souls. We appeal to you to consider the unborn when making appointments to our courts. And we appeal to you to aggressively advance the cause of life because that is exactly what God Almighty was doing when He offered up His Son.
Respectfully
Blow the Trumpet